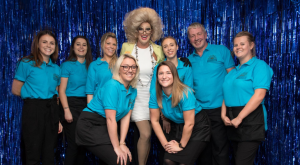 HUNTERS MEET GOES TO BENIDORM!
BE SERVED BY OUR SOLMA WAITRESSES. 
MOUTH-WATERING 4 COURSE MEAL
WITH FANNY GALORE YOUR HOST AS JOYCE TEMPLE SAVAGE
LIVE MUSIC FROM YOUR BENIDORM BAND CLICHE 
ITS GONNA BE A PARTY YOU WON'T WANNA MISSED.
COME DRESSED IN YOUR HOLIDAY CLOTHES OR AS SOMEONE FROM THE PROGRAM
COME AND PARTY BENIDORM STYLE 
Fantastic close up magic around tables with our live all era party band to keep you dancing till midnight.
Enjoy a huge choice 4-course meal
Live All era Music, to keep you dancing until midnight!
Fantastic close up magic.
Great Night out with friends!