Hello Everyone,
The weather may be miserable, and good Old Boris might have put us on a downer, but we can guarantee to lighten your mood here at Hunters Meet
We still have so many reasons to still come out and enjoy yourself and forget about the outside world.
Why not for just one day or evening get out of the house or break your new normal routine. Come and see us to put a smile back on your face and give yourself something to look forward to.

Funny Stories
We have a whole archive of funny stories here at the Hunters Meet and I would like to share these with you every blog.
Hopefully, this will put a smile on your faces during these trying times while the weather is so… wet.

My first story involves me and although I was mortified, I will share it with you so you can benefit from the funny side of the story.

"We had a lovely hotel guest staying in one of our rooms. His remote had stopped working so I kindly went over with a new one for him.

To check it worked I started pressing buttons on the remote. Of all the numbers I happened to press 666. Well, let me tell you, it really is a bad omen number!

To my horror the tele had turned over to an adult only channel! You can imagine!!!
I don't get embarrassed easily, but my face could not have been any redder.

The gentleman (in a joking manner) said 'what sort of establishment is this?!' Thank the lord he saw the funny side because I was beside myself!!
I think I'm over it enough now to find the funny side, only just."

Another story I must share with you is that of wild horses!
This had me in stitches and I hope I can paint the perfect picture for you to imagine the chaos.

It was 9:15 last Wednesday evening when one of the lads from the kitchen, Charlie came into the restaurant looking a bit confused. In a casual but odd manner told Amanda & Megan that there were a couple of horses just in the road right outside.

Amanda called Brendan who in turn called the police to come and help.
He then got hold of Kim, a local lady who has stables, who came down with some rope to try and catch them.

Brendan, Megan & Lesley were trying to entice them with carrots and apples while Amanda tried to slow cars down in the road.
Now anyone that knows Brendan knows he has a book stored away in his head od dad jokes and this was a prime opportunity for him to pull out the old classic
'Why the long face'. Always there to see the bright side.

I can just picture it now! Holding out carrots and apples to horses in the middle of the road. I'm sure they had no interest in the goods being offered and more concerned about how they ended up where they were with nutty humans running around them.

They were eventually caught with Amanda shooing the foal from behind and demanding a cowboy hat. She was walking down a muddy road in a pair of flip flops with a bounding horse one side and a apple in the other hand…Kim kindly led them to safety at her stables.

In the dark Megan and Brendan could see torches in the distance with the faint cries 'Rupert! Rupert'!! The owners were reunited, and Amanda returned to work saying, 'It's never boring working here' and she is not wrong!

Everyone went to bed and then police turned up!!!"

In these trying times all we can do is look at the positives and enjoy ourselves and
we are here to help you do that.
COMING SOON!
This is something I am very excited about and will be brilliant for all our customers. We are getting a Restaurant Pod! Not sure what that is? Let me tell you.
Some of you may already know about our horsebox bar with decking area.
This has been brilliant over the summer months and it seems a shame for it to stop in the colder season, so we have a plan.
The plan is to have an outdoor restaurant pod.
This will be fully equipped to enjoy all year round with glass panels around the sides, huge parasols and gas heaters to keep everyone warm.

You could even BYOB (and no I don't mean booze, we have plenty of that) Bring Your Own Blanket to keep you extra toasty in the colder months.
Everyone will be able to enjoy the beautiful views of the Heath, watch the sunsets, eat delicious food, sip your favourite beverages.
A whole new experience to al fresco dining.
It's going to look incredible and we can't wait for you all to be able to use it.
We will be drafting up some designs for me to share with you so you can start visualising the pod. It's going to be great!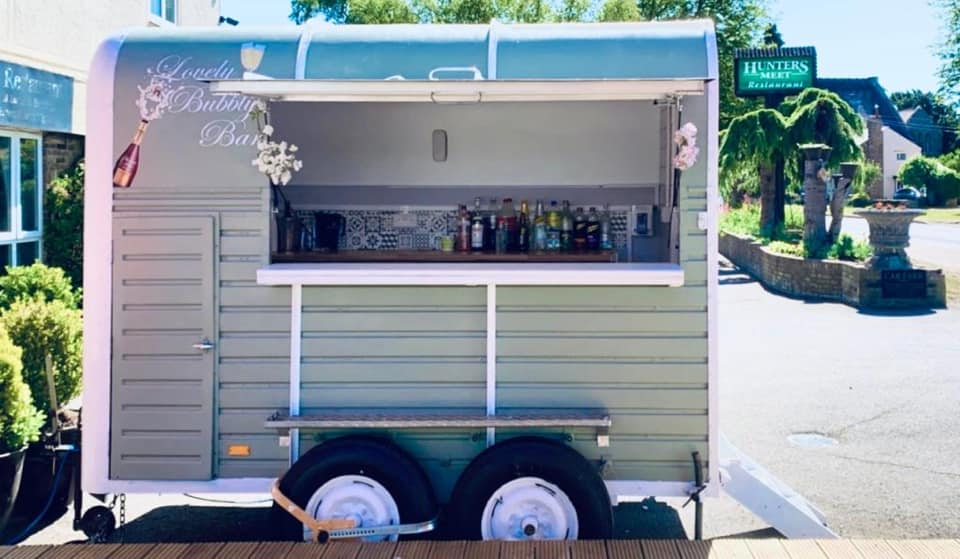 5 reasons you should come to

Hunters Meet & MORE
1. EAT OUT TO HELP OUT
You heard right! We are carrying on with our 'eat out to help out' scheme.
In the midst of all the chaos we want to carry on looking after our loyal customers and anyone who cares to visit us for the first time.
We are offering 50% OFF 2 course meals up to £8 per person.
The only difficulty you will have is to decide between starter & pudding.
But don't fret too much our starters & desserts are fairly priced
if you want to add one on.
This will run every Monday to Wednesday through the whole of October, Lunch & Dinner. All you have to do is call 01279 730 549 and we sort out the rest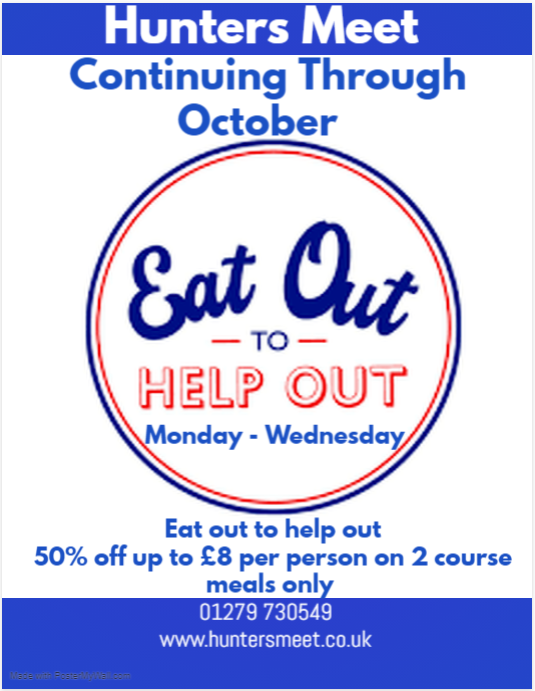 2. Tell us what YOU want night for November
Every Thursday in November we will be hosting an evening, perfect for all you foodies out there.
This is going to be a special evening where you can
tell us what it is you want for dinner. As well as our usual menu with specials.

From Billingsgate to Spitalfields if they've got it you can have it!
All we require is up to 2 days' notice of what you would like for dinner and we will source it for you. Have your favourite steak, fish or even rabbit if that tickles your fancy.
We also take pride in catering for vegans, vegetarians, and gluten free and this would be a lovely way to try new foods to satisfy those meat free taste buds.
If there is too much choice and not all of you can decide
we will still have our a la carte menu & lite bites available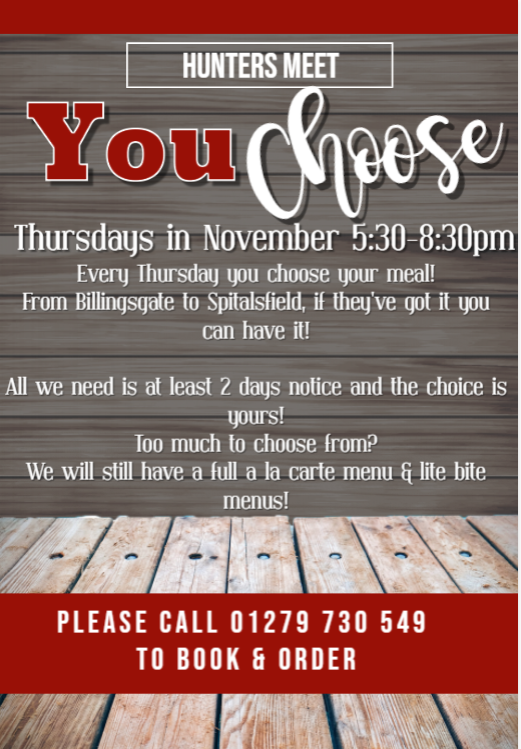 3. Live Entertainment Weekends

5.30pm-10pm
We may have to shut earlier but that is not stopping us giving you
Our Live Entertainment Weekends that are something not to be missed
and we really do cater for everyone's taste.
Most Fridays you will have the…pleasure, of MISS FANNY GALORE, our hostess with the mostess drag queen.
Fanny will be hosting her renowned quizzes, all different themes including her Halloween Weekend.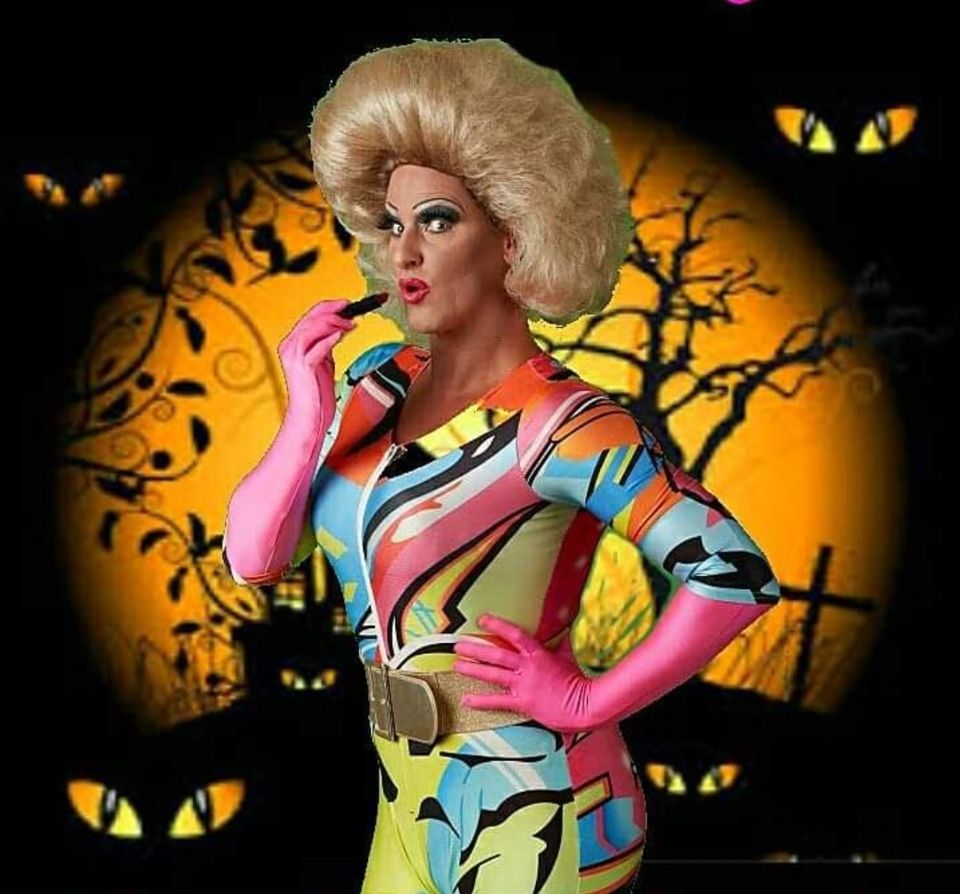 Saturdays you can see performances from the amazing Mrs B with beautiful live acoustic music & live background music from Louise, Lisa & Gee.
All this while you enjoy your meal. You can be sure to have a great atmosphere in wonderful company with delicious food. Lovely evening for family and friends.
4. Sunday Lunch & Afternoon Teas
These really are a lovely way to get out, especially in the winter.

Bring the family and warm up with a lovely Sunday Roast. We have a great selection of hand carved meats served with all the trimmings as well as lots of other choices.

We even have a full vegan, vegetarian & dairy free menu.
Don't fancy coming out in the cold?
We are still offering our delivery and collection service so we can bring your dinner to your door or you could pop in to take it away.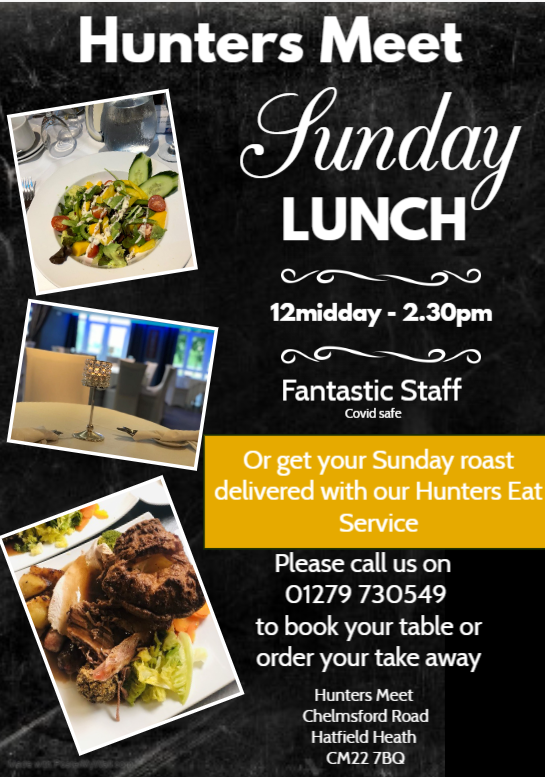 Got an occasion to celebrate or just want to spend some time with friends?
A beautiful afternoon tea is a lovely way to do this.

With a great selection of sandwiches, handmade scones and delicious desserts & unlimited tea and coffee you can't go wrong.
You could even upgrade and add a bit of sparkle to your afternoon tea
with a lovely glass of prosecco.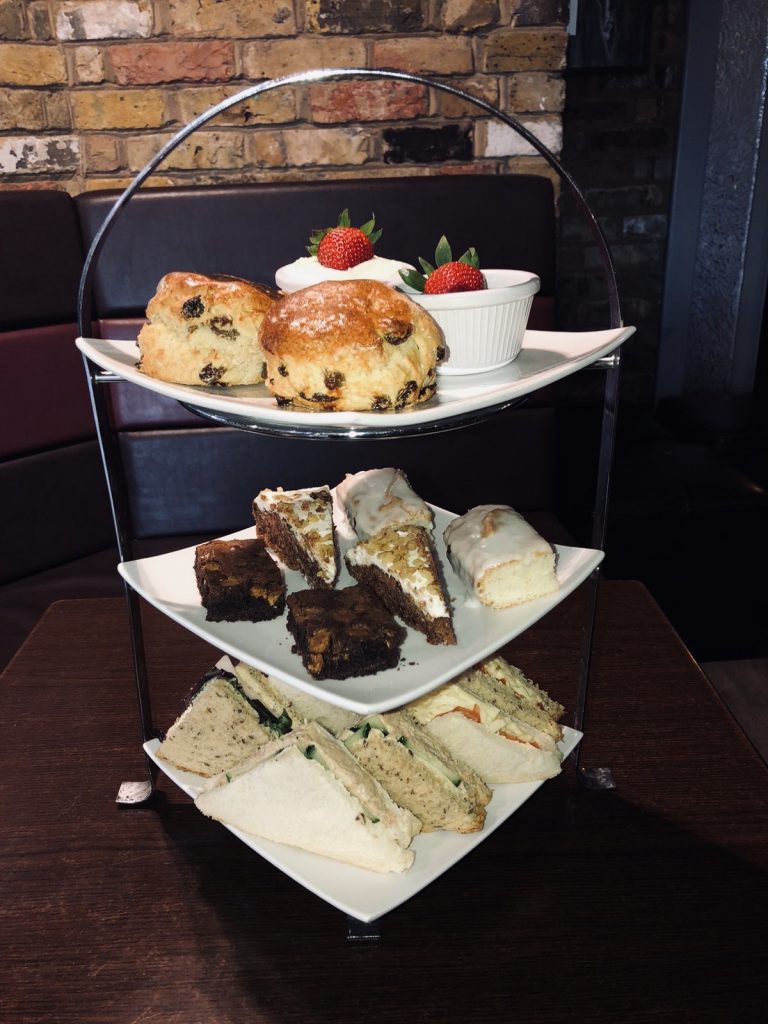 5. Hotel & Spa
Having a night out here or want to get away and treat yourselves?
Our Spa and Hotel is perfect for that.

I often hear couples (debating) about who is going to drive,
both knowing they equally want a little drink.

Well why not both have a drink or two and spend the night in one of our lovely rooms and wake up to a full English Breakfast to soak up the night before.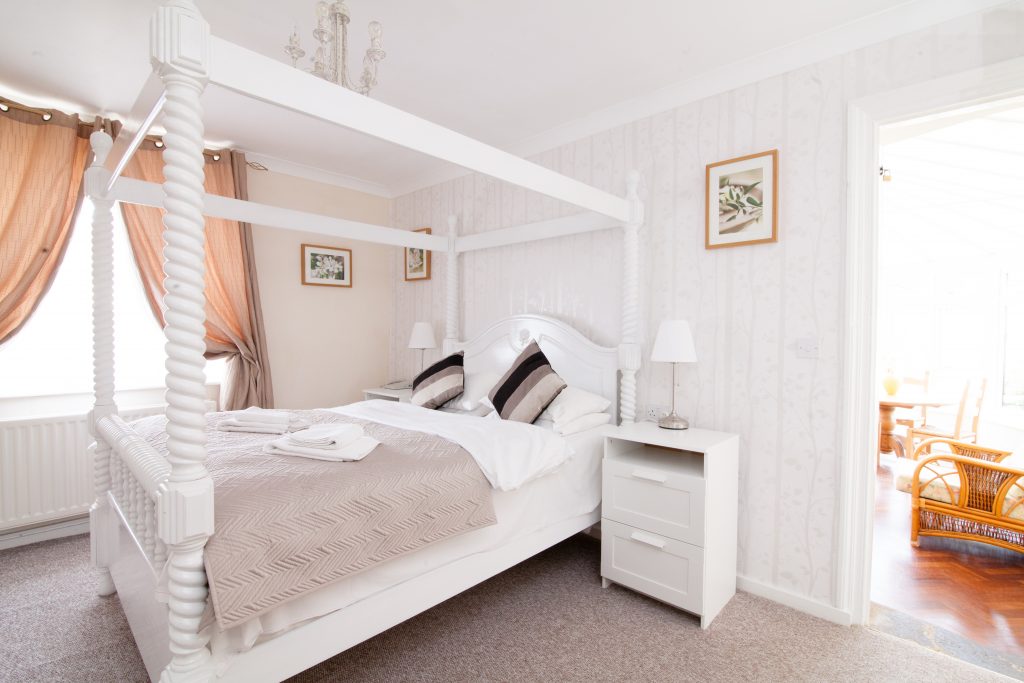 We also have an amazing spa offering an array of treatments
& special monthly offers.
Book a hen do, treat your mums, heck, treat yourself.

We do pamper stays as well which I just love.
This way you get the best of everything.
Dinner & entertainment, overnight stay, breakfast in the morning, full use of the pool and gym AND your treatments!

You could even have afternoon tea around the pool.
A perfect balance of fun & relaxation all in one place.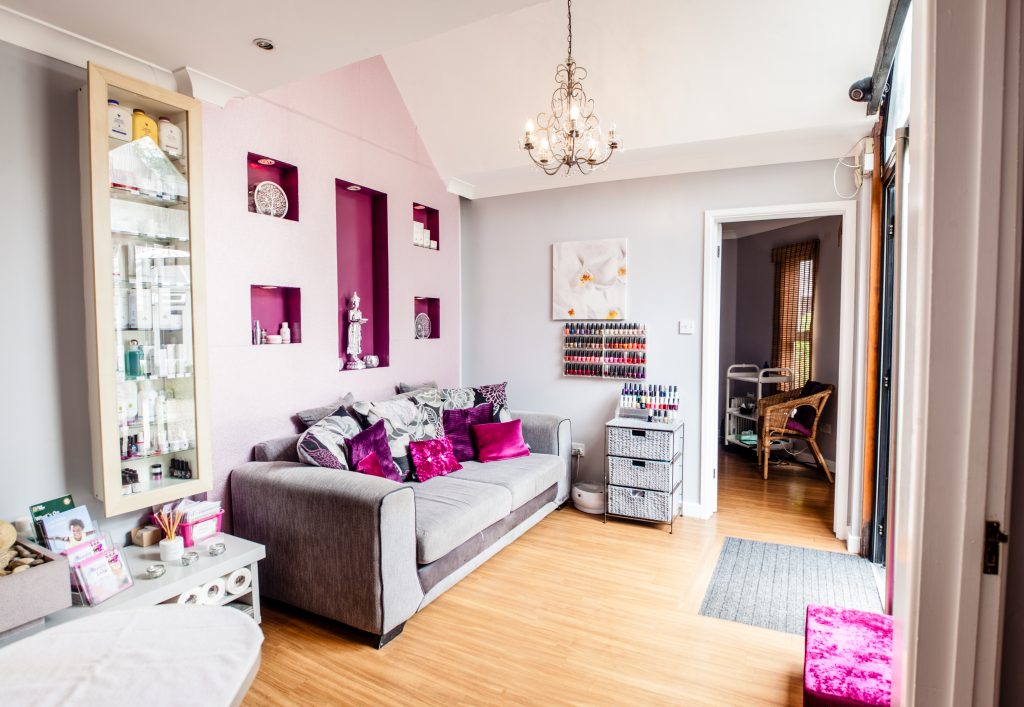 Thank you so much for reading the blog,
We do really appreciate all feedback, comments and suggestions any of our customers have so always drop us an email info@huntersmeet.co.uk We try and take on board all ideas that you would like to see here.
I hope to see you all soon
Speak Soon
Sapphire
xxx