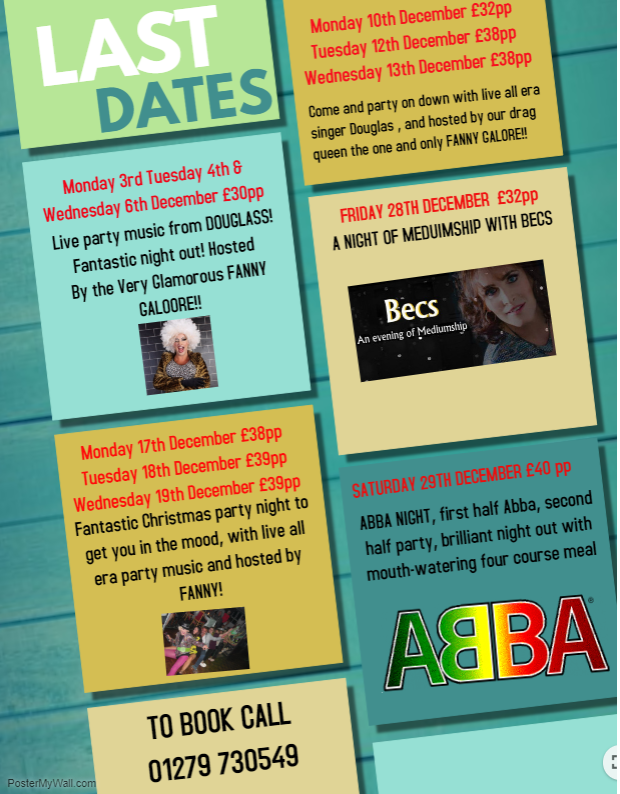 LAST DATES FOR 2018
Monday 3rd Tuesday 4th & Wednesday 6th December £30pp
Live party music from DOUGLASS! Fantastic night out! Hosted
By the Very Glamorous FANNY GALOORE!!
Monday 10th December £32pp
Tuesday 12th December £38pp
Wednesday 13th December £38pp
Come and party on down with live all era singer Douglas , and hosted by our drag queen the one and only FANNY GALORE!!
Monday 17th December £38pp
Tuesday 18th December £39pp
Wednesday 19th December £39pp
Fantastic Christmas party night to get you in the mood, with live all era party music and hosted by FANNY!
BRAND NEW DATES FOR DECEMBER
FRIDAY 28TH DECEMBER  £32pp
A NIGHT OF MEDUIMSHIP WITH BECS 
SATURDAY 29TH DECEMBER £40 pp
ABBA NIGHT, first half Abba, second half party, brilliant night out with mouth-watering four course meal