Hello Everyone,
Another busy week has been and gone and it really has been an eventful one.
This weekend we were at the Home & Lifestyle show at Chelmsford Racecourse. We took plenty of bookings from Christmas Parties to Pamper Stays and people wanting to book to celebrate the 'o' birthdays with us which was wonderful.
I think The Hunters Meet fits nicely into home and lifestyle. Being an independent family run business, I feel that the owners Brendan & Lesley have worked extremely hard in making sure their venue feels like a home from home. From mid-week hotel guests staying Monday-Friday to our weekend party goers, there is a welcoming, friendly environment with an abundance of energy and plenty of laughter.
Being fully involved in the business Brendan & Lesley see first-hand what people expect and need. The staff find their energy infectious which brings the whole Hunters Team together. It's a lovely environment to work and we hope that our happiness and teamwork translates to the guests giving them the experience they deserve for whatever reason they are here.
Talking of reasons to be at the Hunters Meet, I have plenty of reasons 😊
Last week we had an all you can eat private BBQ for Hatfield Heath School. There were around 70 guests filling their bellies with burgers, sausages, salads, chicken, garlic bread, mozzarella dippers, wedges, onion rings and so much more.
They all had a lovely time. So much so that Years 1 & 5 are now coming to our Wednesday mid-week BBQ serving 6:30-9pm. All you can eat £12 and half price for kids.
Last Wednesday we had a lovely turn out for our night of medium ship with Becs. Everyone got to enjoy a delicious 2 course meal with the option for dessert after until Becs came in to take over. There plenty of lovely messages passed on to loved ones, tears and happiness. It really is a pleasant and touching evening.
Becs has another date lined up with us on Thursday 28th November. Do book your space to avoid disappointment.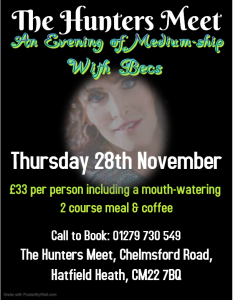 We had another wedding this week for the lovely couple Lisa & Daniel. It was hit and miss for a little while regarding whether they could get married in our secret garden as the heavens opened. But as always, the Hunters Gods were looking down on us and held off the rain for the ceremony and with a handy radar app we could see we weren't expecting anymore rain.
However, we did accumulate a new lake from the flash flood on our gravel car park, but quick-thinking Bren pulled together a wooden bridge as if by magic for all the guests to walk over to get to the garden without getting drenched. The couple did not let the weather rain on their parade and the whole day was successful and from what we could see everyone had the best time.
From all the Hunters Team we would like to once again congratulate Lisa & Daniel and we wish them all the happiness in the world for the future.
Dates to Look Froward to
As busy as last week was so is the future here at The Hunters Meet.
Firstly, I would like to welcome everyone to join us on Saturday 27th July. We only have last minute spaces available, but we are offering these at just £25pp. This will include your delicious 4 course meal, the amazing live band Cliché & the very talented Paul Clancey doing close up table magic. An opportunity not to be missed.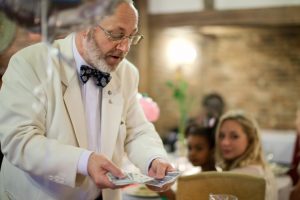 At the very beginning of August, we have an 80's night with Fanny Galore, Friday 2nd August. Call to book your table.
NEW DATES: Friday 22nd November we have a KYLIE MINOGUE tribute making her debut her at The Hunters Meet. The evening will of course include a moth watering 4 course meal. Space are going to go quickly so call 01279 730 549 to book your place.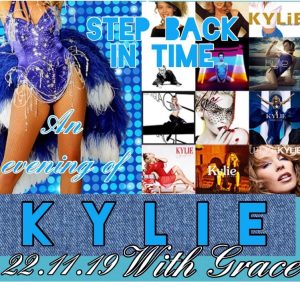 There is plenty going on so please call 01279 730 549 to book and check out our entertainment calendar for more dates.
Something New
From now on I would like to sign off a little differently. We have been talking to ladies over in the Beauty Lodge and every week one of them always seems to have a funny story to tell and I would love to share them with you, Albeit sometimes are their expense, sorry in advance ladies.
I had the pleasure this weekend of working with one of the beauty ladies, Jayne, at the Home & Lifestyle show. Now we are both trying extremely hard to lead a healthier lifestyle and eat better. Well, not only did we have Tiptree serving vodka, rum & gin samples to our left but right opposite us was a stand serving popcorn and a chocolate fountain with everything you could think of to dip in it.
During the show one of the ladies came over offering us all chocolate covered strawberries. Well, Jayne had me crying with her response. I politely declined the delicious offer; Jayne turns around and says 'Oh do you know what?! The old fat me would have gone over there and shoved my face in the fountain but I just can't'. It was such an unexpected response and so funny. It put a smile on all our faces. I hope it has yours too and look forward to many more stories.
I hope you all have a wonderful week and hopefully we will hear from you soon.
To make any bookings please call 01279 730 549 and we will be happy to help.
Speak Soon
Sapphire
xxx