All Party nights come with a mouth-watering four course meal and live entertainment.
FRIDAY NIGHTS @£40 PER PERSON
SATURDAYS NIGHTS @£42-£45 PER PERSON
PLEASE NOTE OUR DECEMBER DATES PRICES ARE DIFFERENT, PLEASE SEE NEXT TO EVENT THE PRICE OF THE EVENING.
Our Party nights are 7pm till 12am.
AFTERNOON CABARETS
@ £17 Afternoon Tea and Show! 
£20 two course meal and show!
FROM 12-4PM. 
Fantastic all era live band THE SONICS & Close up magic around the tables by MAGIC PAUL
Great night of entertainment to come and party with!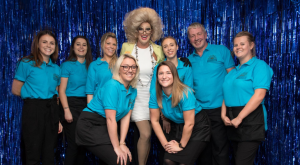 HUNTERS MEET GOES TO BENIDORM!
BE SERVED BY OUR SOLMA WAITRESSES. 
MOUTH-WATERING 4 COURSE MEAL
WITH FANNY GALORE YOUR HOST AS JOYCE TEMPLE SAVAGE
LIVE MUSIC FROM YOUR BENIDORM BAND CLICHE 
ITS GONNA BE A PARTY YOU WON'T WANNA MISSED.
COME DRESSED IN YOUR HOLIDAY CLOTHES OR AS SOMEONE FROM THE PROGRAM
COME AND PARTY BENIDORM STYLE